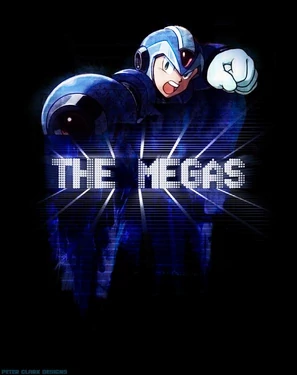 The Megas is a Los Angeles based independent video game cover band based on the Capcom game, Mega Man 2. They differentiate themselves from artists who have played Mega Man 2's music in the past by adding original lyrics and composing new sections which blend seamlessly with the original compositions. Their lyrics expand on the simple story laid out in the NES game, giving each of the 8 Robot Masters a unique personality. Their debut album, Get Equipped, was released in January 2008.
The band has gained notoriety in the video game music scene due to their popularity on sites like Newgrounds. Their song "The Annihilation of Monsteropolis/Airman" was featured on the front page of the popular video game music remixing site OCRemix, and most recently the band was mentioned on Wired magazine's blog as well as the official Capcom blog.
They plan to create new music from other Mega Man games in the future. Mega Man 3 and Mega Man X have been mentioned as the most likely candidates for inspiration, though in May of 2008 they released a track for a VG music compilation based on the Mega Man 2 level select track, a song they had skipped over during the recording of Get Equipped. Their ultimate goal is to tour Japan, and play their music for Mega Man's creator, Keiji Inafune.
Mission statement
"Since the year 200X (4), The Megas have strived to bring a message from Dr. Light to the people. They have chosen to transmit that message, the tale of a small blue robot named Mega Man, directly into the eardrums of the general populace through the power of rock."
History
Formation and early days
Josh Breeding arranges and performs a version of the song "I Want to be The One" (based on the Dr. Wily 1-2 theme) for a school talent show. Later, plays the song for Eric von Doymi, a friend that he met at Cal State Long Beach. The two of them re-record the track. The band is formed shortly after, picking up bassist Greg Schneider (previously of the band Agent 51) and drummer Dave Jensen. The first songs are laid out and performed live at video game themed shows and local venues. The band continues as a side project for a couple of years up until the recording of their first official album, Get Equipped.
Release of first album
Drummer Mike Levinson, who previously played in Agent 51 with Greg, joins the band. He takes the place of second drummer Brent Firestone. The band constructs a studio dubbed "Dr. Light Studios" and focuses on recording and releasing their first album. Get Equipped was released in January, 2008.
Back on tour
Upon the release of Get Equipped, it is announced that live shows will be performed again. This time an August tour is planned around the 32 Bit Genocide show in Baltimore, MD.
Podcast
In April of 2008, the band began recording a bi-weekly podcast, in which they discuss topics relating to video games or whatever else is on their minds. They also answer questions posted on their official forums.
Style
The original music from Mega Man 2 is an 8-bit format from the NES. The Megas use guitar, bass, and drums to create songs inspired by the original themes of each boss stage, as well as other soundtrack selections such as the enemy selected music and the ending song music. Original lyrics are created for the songs, typically centered around each of the Robot Masters' personalities, made up based on their level design and their appearance.
Band members
Current members
Josh Breeding aka Rev. Breeding - rhythm guitar, lead vocals
Eric von Doymi aka E- lead guitar, backing vocals
Greg Schneider aka Gregatron - bass, backing vocals
Brian DiDomenico aka The Double D - keyboard, synth (2011-present)
Greg Herschleb aka Church - Drums (2012-present)
Former members
Mike Levinson aka Mikey Hell - drums (2006-2012)
Brent Firestone - drums (2005-2006)
Dave Jensen - drums (2004-2005)
Discography
Official websites
See also
External links
Community content is available under
CC-BY-SA
unless otherwise noted.