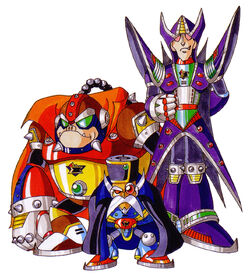 The X-Hunters, known as Counter Hunters (カウンターハンターKauntā Hantā?) in Japan, is a group of three Mavericks from Mega Man X2 that recovered Zero's parts to revive him as a Maverick. After defeating two Mavericks, they will contact Maverick Hunter H.Q., each challenging X to a duel. They will then randomly appear in hidden rooms in one of the six remaining stages; if defeated, X will recover one of Zero's parts. They will also reappear as individual bosses in the final stages.
Members
Production Notes
Developer Comments
"When figuring out the limits of the CX4, a female X-Hunter was removed from what were called the 'Four Guardians' at the time. Violen also lost his second form. We just didn't have the resources to make that all happen." -Yoshihisa Tsuda [1]
Trivia
All three X-Hunters make brief cameo appearances during the opening cutscenes of Mega Man X3 (Sega Saturn, PlayStation, and PC versions) and Mega Man X5.
The theme for Gate's Laboratory in Mega Man X6 is a remix of the third X-Hunter stage theme.
The music of the X-Hunter stage 1-2 is an influence on the boss theme for the SNES game Mighty Morphin Power Rangers.
References
Community content is available under
CC-BY-SA
unless otherwise noted.